Increasing Tobacco Prices Through Non-Tax Approaches
According to the Surgeon General, raising the price of tobacco products is one of the most effective strategies for reducing initiation, decreasing consumption, and increasing cessation. It also has a pro-equity effect on smoking.[1] While raising excise taxes is the gold standard for raising the price of tobacco products, other non-tax opportunities exist for states and communities facing political barriers to excise tax increases.
These strategies include:
Implementing or strengthening minimum price laws;
Banning price discounting/multipack offers;
Increasing tobacco retail licensing fees;
Instituting mitigation fees; and
Implementing disclosure or sunshine laws for payments or discounts to retailers.
The first two of these strategies also have the benefit of counteracting industry attempts to subvert tax increases through price discounts paid to retailers or wholesalers, which, according to the Federal Trade Commission, accounted for 85.8% of the industry's advertising and promotional expenditures for cigarettes and smokeless tobacco in 2018.
For a primer, review:
Point-of-Sale Tobacco Pricing Fact Sheet and Infographic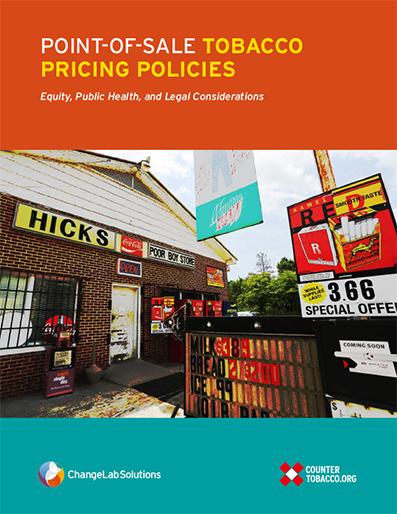 In partnership with ChangeLab Solutions, we created this new fact sheet and infographic for local and state tobacco control advocates who are looking to enact point-of-sale (POS) tobacco pricing policies and improve community health and equity. The POS pricing approaches covered in these resources include:
Minimum floor price laws for all tobacco products
Minimum pack sizes for little cigars and cigarillos
Prohibiting coupons, price discounts, and promotions
For more details on each of these strategies, click below: